Entrepreneur Quiz
Time required: 6 minutes.
Can anyone be an entrepreneur? Definitely. Here is a caveat: one of the most important factors in succeeding in business is whether the type of and scale of business you want to run fits your entrepreneur type that is based on your personality traits.
Knowing your entrepreneur type is crucial. If the nature of the business you pursue does not match up your entrepreneur type, you run the risk of losing your business, the money and effort you have invested, never mind the frustration and loss of self-confidence.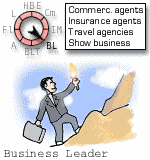 Take the Entrepreneur Quiz and discover:
Most suitable business size
Entrepreneur types
Their descriptions including strong and weak points, necessary steps for success, and examples of favorable occupations these types are likely to succeed as entrepreneurs.
Useful resources such as search of franchises
Premium: granular assessment of your entrepreneur type – find your exact type and, if applicable, what kind of business partner, in terms of his or her entrepreneur type, you can benefit from partnering with, and examples of occupation for partnership.